With January come and (almost) gone, I have realised that my annual goals are not going as great as I expected. My biggest exercise is the weekly adventure to the big Tesco to collect supplies (Internet ordering is so 2020) and it does take a lot of will power to move from bed to the couch. As with these things, usually, there is someone else who struggles with the same problem, I thought we could use February to encourage other couch dwellers to Just Keep Moving and organise free exercise classes for everyone in need of movement.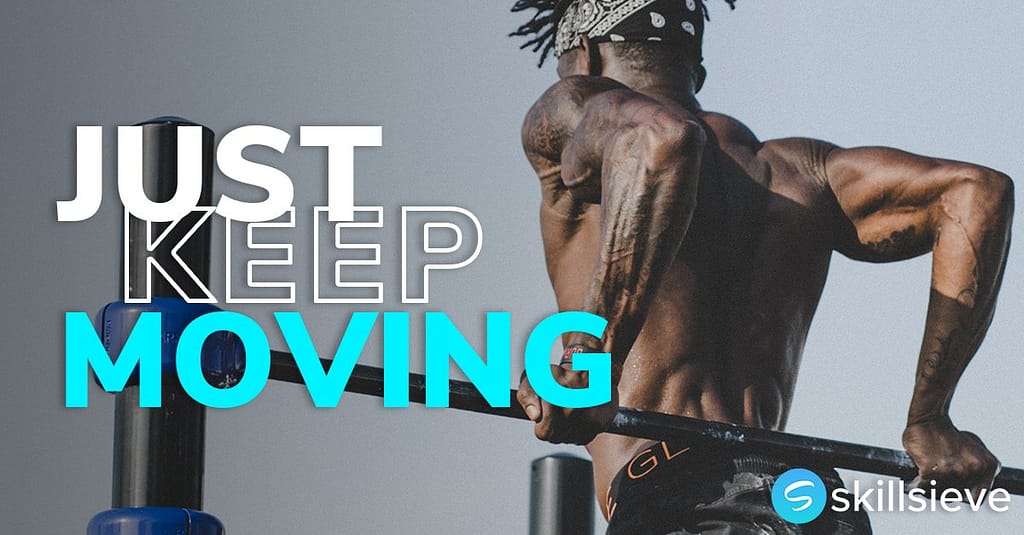 Just Keep Moving Challenge and free classes for everyone
So how will this work? Throughout February you will receive a daily prompt to remind you to move your body, along with free live classes from almost 30 teachers and ideas on how to move your body if you can't make it to the class.
The classes will range from yoga and pilates, through Zumba, all the way to boxercise and HIIT ( and many more!). So there is plenty in store for any taste and liking.
How to join the challenge?
Sign up here to make sure you receive the daily prompt.
Classes will be held live so you can interact, but if you are looking for even more company, you can join our Facebook group.
If you enjoy browsing the classes check out the directory which is already available on our website. Just click on 'Classes' on top of this page.
How to get involved?
You can get even more involved and share your success with us! (a success is managing to Just Keep Moving – either in the free exercise classes or with any other activity you enjoy).
Share a picture of you doing the thing on Instagram and tag @skillsieve and #justkeepmovingchallenge. We would love to see how creative you get throughout the month.
As an extra encouragement anyone who follows @skillsieve on Instagram and shares their Just Keep Moving picture will enter an Amazon voucher giveaway (YES! We really wan to get you up from that couch!)
Why should I Just Keep Moving?
Ok, ok. So I gave you a challenge, but why should you accept it? What is a reason to roll of the couch and onto a yoga mat? Let me give you my favourite 5:
1. You sleep better
Sleep is one of the best thing humans can ever do. Having a good night sleep can put one in an amazing mood, whereas a bad night sleep can bring you down and ruin the whole day.
Exercising can give you the right amount of tired to fall asleep quickly and with no tossing and turning. For me, whenever I move regularly falling asleep becomes super easy and I wake up in the morning fresh and energised.
Just make sure you don't exercise too close to bed time, as…
2. You have more energy
Exercise gives you a massive boost of energy! Yes, you will feel tired eventually (and have sore muscles) but morning or lunch-time exercise can be a great energy boost, not only physically but mentally as well.
I am a big fan of yoga or pilates classes during lunch time. They are not too energetic to tire me off completely, but give a great boost to my mental ability and I can breeze through the rest of the day with no issues.
3. It improves your mood
2020 has been a big year for mental health. We kept talking about it, hearing about it, caring about it and – quite often – struggling with it. Exercise is a great way to give your mood a boost and it's all thanks to those small things call endorphins. Endorphins can trigger a positive feeling in your body. For example, the feeling that follows a run or workout is often described as "euphoric." That feeling, known as a "runner's high," can be accompanied by a positive and energizing outlook on life.
Of course, not all mental health conditions can be resolved by exercise, so if you are struggling with it, make sure to reach out to your healthcare professional.
4. Makes you look good
Well, I had to mention this one. And I don't mean only losing weight. Exercising makes you look good, just by doing it. It is inspiring to others and makes you look more attractive.
Have you ever looked in the mirror after exercising? Yes, you might be red and sweaty, but that happy sparkle in your eyes is there as well 🙂 And that is attractive!
5. It is good as any way to pass the time
We are stuck at home right now, ok? And there is a limited amount of activities we can do, so why not use this time to exercise? Of course, watching another Netflix show or the new WandaVision (omg, how good is that show?!)is very tempting, but you can still do it AND you can still do it while exercising (you didn't see that coming, huh?).
Bottom line, one day we will be out of the lockdown and we can welcome that in a great shape, with great mood and with lots of energy. All it takes is Just Keep Moving.
So make sure you sign up to the challenge, share your daily moving success with us on Instagram and we will see you in class!